Prairie Horizon Agri-Energy is one of only a handful of ethanol plants moving into the production of biodiesel. The biorefinery announced plans to form a partnership with WB Services to add a renewable diesel production facility into the existing ethanol plant.
"With this announcement, Prairie Horizon continues to meet its goal of providing leadership in the renewable fuels industry," said Mike Erhart, CEO of Prairie Horizon Agri-Energy. "We are very excited and eager to partner with WB Services and get under construction and put this product in the marketplace."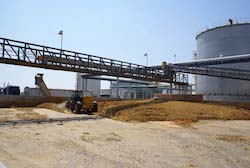 WB Services, LLC, will design, construct and operate the renewable diesel plant utilizing patented renewable diesel process technology. (Learn about WB Services in this audio interview with WB Services' Bernie Hoffman).
According to Ron Beemiller, President and CEO of WB Services, "This plant will be the first of its kind—the first renewable diesel plant to fully integrate into an existing ethanol operation. This is a very exciting time for both Prairie Horizon Agri-Energy and WB Services, we look forward to working with PHAE's exceptional leadership team on this project."
Currently, Prairie Horizon Agri-Energy is a 40 million gallon per year nameplate ethanol plant, which began operations in 2006. With the completion of the facility, renewable diesel nameplate production will be 3 million gallons per year, and will also produce denaturant, fuel gas, and steam for use at the existing facility. Prairie Horizon Agri-Energy also has a significant investment in the renewable and biodiesel plants under construction by Green Energy Products in Sedgwick, Kansas. Design work has already begun, and construction is scheduled to begin in the middle of 2014.