Mike Skuodas, Director of Sales for Dakota Gold at POET Nutrition was honored with a Patriot Award in recognition of his support of team members serving in the South Dakota Guard and Reserve. The award was given by the Employer Support of the Guard and Reserve (ESCR), a Department of Defense (DoD) operational committee.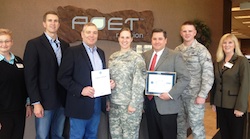 "The Patriot Award was created by ESGR to publicly recognize individuals who provide outstanding patriotic support and cooperation to their employees, who like the citizen warriors before them, have answered their nation's call to serve," said Ron Mielke, South Dakota ESGR State Chair. "Supportive supervisors are critical to maintaining the strength and readiness of the nation's Guard and Reserve units."
Skuodas was nominated by Justin Schnieders, 114th Fighter Wing Aircraft Maintenance Squadron and Abby Roberts, 1742nd Transportation Company for being highly supportive of the Army and Air National Guard. Schnieders and Roberts currently work at POET Nutrition and nominated Skuodas for his support of their National Guard duties, including the availability of flexible schedules, time off for inspections and training time, and additional time to care for their Guard family as well as their own families at home.
"I am truly humbled to receive this award and accept this honor on behalf of everyone at POET and POET Nutrition," said Skuodas. "Supporting the National Guard is part of the culture we embody here at POET. Abby and Justin have stepped up to serve our state and country, as have many other POET team members, and we will continue to do all we can to support them and their families."
Don Dietrich, President of POET Nutrition, signed a Statement of Support to declare POET Nutrition's support of service members employed by the organization.