Distillers grains exports set a new monthly record in March, while U.S. ethanol exports rebounded from the previous month, according to the latest numbers.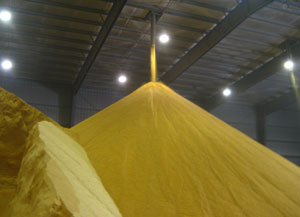 The Renewable Fuels Association (RFA) reports that March exports of U.S. distillers grains, which is the animal feed co-product from dry mill ethanol plants, were a record 1.16 million metric tons. March shipments were up 28% from February and topped the one million mark for just the fourth time in history. China accounted for half of the export shipments, with Mexico and South Korea taking the second and third place slots. Year-to-date, distillers grains exports as of March totaled 2.97 million metric tons, a 65% increase over the same period a year ago, putting the U.S. on pace to export a record 11.9 million metric tons this year.
At the same time, total U.S. ethanol exports, including both denatured and undenatured, were 84.0 million gallons in March, up 25% over February and just slightly below the January total of 86.2 million gallons. Canada and Brazil were top destinations in March, with both the Philippines and Nigeria re-entering the market. Meanwhile, U.S. ethanol imports totaled just 5.3 million gallons in March, making the United States a net exporter by a wide margin for the seventh straight month.