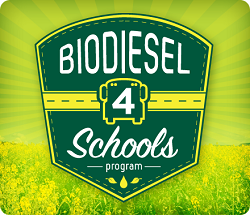 A North Carolina company that makes biodiesel from used cooking oil is now expanding to put more than green fuel in school buses. Company officials now want to put green bucks also back into the school systems. This story from WRAL says Green Circle NC collects old cooking oil from area restaurants and sells it to biodiesel companies and is looking to make the ultimate fundraiser for schools.
Dean Price supplies the fuel, and he's hoping that his Biodiesel 4 Schools program will help local school systems.
Green Circle NC splits profits with school systems and furnishes biodiesel for school buses. Johnston and Durham county schools have already signed up, and buses in the Bull City could be running on biodiesel by the start of the next school year.
"That will allow them to put biodiesel directly into buses from this program," Price said.
Communities can grow and sell the canola oil to the local restaurants, and after it is used up there, it can go into the biodiesel system where the schools can profit again. Officials with Green Circle NC hope to see the system go nationwide.