Farmers Cooperative Company has broken ground on the future site of its new Mount Ayr, Iowa renewable fuels retail location. The station will offer consumers higher blends of ethanol and biodiesel including ethanol blends E10, E15 as a registered fuel, E30 and E85, as well as biodiesel blends B10, B20 and B99 for jobbers and special use customers.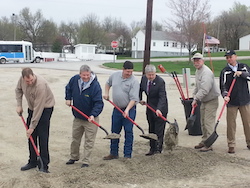 "The price of [E10] in Iowa is 17-30 cents below gasoline, so the savings is even greater with higher ethanol blends," Iowa Governor Terry Branstad told the audience at the groundbreaking ceremony. "I've told the EPA, if E15 is offered to give consumers a choice, they will choose cheaper renewable fuels."
Iowa Secretary of Agriculture Bill Northey told attendees, "For this project, we have a great partnership with [Iowa State University] who will be conducting a study to find out why motorists choose the fuels they do. This is a great opportunity to convince others to make the same type of investment."
Farmers Cooperative Company was selected to receive $125,000 in funding for the new site from Iowa Governor Terry Branstad's "Fueling Our Future" program, administered by the Iowa Department of Transportation (IDOT) and the Iowa Department of Agriculture and Land Stewardship (IDALS). In addition, Farmers Cooperative will receive $100,000 in funding from the Iowa Renewable Fuels Infrastructure Program. Construction will begin later this year.
"We congratulate Farmers Cooperative Company on this great event to celebrate the groundbreaking on a true renewable fuels retail location that will provide consumers with greater access to clean, locally-produced ethanol and biodiesel," added Iowa Renewable Fuels Association Managing Director Lucy Norton. "With the help of Gov. Branstad's 'Fueling Our Future' program and the Iowa Renewable Fuels Infrastructure Program, Iowans will continue to benefit from fuel choice at locations like this one."