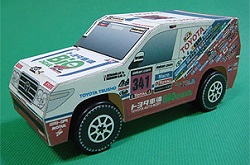 You might not be able to take it four-wheeling, but a lighter version of a biodiesel-powered Land Cruiser could help you get through a long day at your desk. Autoevolution reports Toyota is offering a paper model of its legendary vehicle, just right for killing time deep thinking sessions as you come up with big ideas for your boss.
Toyota subsidiary Toyota Auto Body Co has made a paper version of its biodiesel-powered Land Cruiser you can download, print and build. If you have no idea what's with the Bio-Cruiser, you need to learn that it known for emitting 60 percent less carbon dioxide than regular diesel Dakar competitors.
Toyota Auto Body entered the real car into the 2014 Dakar rally using biodiesel made our of used cooking oil to show that it cares for nature and people could use other fuels for racing purposes.
You can download the paper Toyota Land Cruiser kit here. Soon you can recreate the Dakar rally, complete with your own, self-generated sound effects (but you might want to close your office door, lest the boss thinks you're just goofing off).