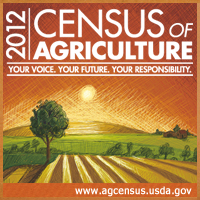 The 2012 Census of Agriculture shows a doubling of on-farm renewable energy production since 2007.
According to the census data released by USDA today, there were 57,299 farms that produced on-farm renewable energy in 2012, more than double the 23,451 in 2007. By far the biggest was solar panels, used on over 36,000 farms. Geoexchange systems and wind turbines each were used on more than 9,000 farms.
For renewable fuels, biodiesel was produced on 4,099 farms and ethanol on 2,397. Small hydro systems were used on about 1300 farms and methane digesters on 537.
The census reveals there are now 3.28 million farmers operating 2.1 million farms on 914.5 million acres of farmland across the United States. Those numbers are all lower than 2007 when the census reported 3.18 million farmers, 2.2 million farms and 922 million acres. The top 5 states for agricultural sales were California ($42.6 billion); Iowa ($30.8 billion); Texas ($25.4 billion); Nebraska ($23.1 billion); and Minnesota ($21.3 billion). Corn and soybean acres topped 50 percent of all harvested acres for the first time.
Census data is available from USDA online and a recording of the webcast release of the census data is here: USDA Releases 2012 Census Data