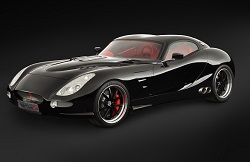 The world's fastest diesel-powered car also happens to be biodiesel ready. This article from the Gas2 blog says British carmaker Trident's has the kind of power you'd expect from a Brit muscle car.
Powering all three models is a 6.6 liter turbodiesel V8 that in standard form dolls out 424 horsepower and a home-topping 950 ft-lbs of torque, while being biodiesel compliant. Need moar powah? Trident will upgrade your engine to the tune of 651 horsepower and 1,057 ft-lbs of torque, which the coachbuilder claims will take the Iceni to a top speed of over 190 MPH.
651 horsepower? Insane! And, oh yeah, throw in a whopping 68 miles per gallon that gives its gas tank a 2,000-MILE range. And just for good measure, the Iceni, available in the Magna fastback and Venturer estate wagon models, according to the company's website, is able to do more than just sip a 5 percent blend of the green fuel.
Although the mineral diesel sold in every fuel station in the UK has a small percentage of Bio-diesel within its formula ( approximately 5% ) the Iceni range has been developed to run on 100% Bio-Diesel.
And the base model is available for just $161,000… but who wouldn't want the options that would push the price closer to a cool $200k? Yeah, I think this should become a test vehicle for Domestic Fuel's intrepid biodiesel blogger, ME!