Americans United for Change and VoteVets.org held a press call today to reveal IRS documents showing that Saudi Oil money is helping to finance the multi-million dollar anti-renewable fuel smear campaign ads that the American Petroleum Institute (API) is waging against ethanol and the Renewable Fuel Standard. Also today, the API held a press call to once again call for the lowering of ethanol volumes as mandated by the RFS. As of today, the Environmental Protection Agency (EPA) has not published its final renewable volume obligations (RVO) for 2014 as they continue to sift through more than 25,000 comments submitted in response to their proposal.
In response to the continued attacks on biofuels, Americans United for Change is launching a Sunday show TV blitz aimed at both the public, legislators and key decisions makers in the Beltway in an attempt to set the record straight. Part of the ad calls out how foreign oil interests are attempting to keep America addicted to dirty petroleum products. According to tax documents, Saudi Arabia has been a funder of API dating back to 2008 and an employee of Saudi Aramco – a company with an estimated worth of $7 trillion by Financial Times, actually held a seat on API's board.
'The Kingdom' will air May 4, 2014 on Meet the Press, Face the Nation, This Week and Fox News Sunday in the Washington, D.C. market.
Listen to the full conference here where Brad Woodhouse, Americans United for Change president "follows the Saudi money": Saudi Oil Money Backing Ethanol Smear Campaign
Brad Woodhouse, President, Americans United for Change said during the press call, "API's agenda is very simple and very greedy: they want EPA to cut the amount of renewable fuel in gasoline while raising the amount of crude oil. This is about market share, plain and simple."
"You see, for every gallon of renewable fuels that is blended into gasoline," he continued, "it's one less gallon of gasoline the oil industry can sell. And since the United States already consumes far more oil than we can produce, all of that additional oil will have to be imported. Oil demand goes up, which means prices go up, and consumers send more of our paychecks overseas. So we decided to follow the money, and based on what we found, American Petroleum Institute President Jack Gerard ought to be using air quotes whenever he utters his outfit's name."
Woodhouse notes that having a lobbyist for the Saudi King helping call the shots at API, is "deeply troubling." "They're funneling Saudi Oil money into a campaign to force us all to buy more Saudi oil, and passing it off as American as apple pie."
Americans United for Change is calling on API to disclose the full, current membership of its Board of Directors and Woodhouse added, "If you are still taking Saudi oil money, be honest about it. Don't hide it anymore."
The organization is also calling on Saudi Aramco to disclose how much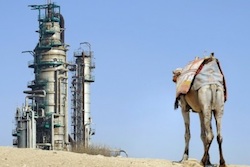 money it has contributed in the last five years, including its subsidiaries, to the American Petroleum Institute and other front organizations.
Jon Soltz, Iraq War veteran, Co-Founder and Chairman of the 400,000+ supporter veterans group, VoteVets.org added, "There's nothing "American" about the way the "American" Petroleum Institute is doing business. They're fighting to block competition from U.S. businesses, and they're doing it with Saudi Aramco's trillions in oil dollars. Saudi Arabia is our ally and our strategic partner. We mean no disrespect."
"But this is our country, and Americans should be the ones to decide our energy future," continued Soltz. "I hope that the research we're releasing today will give some folks in Congress and at the EPA some pause."
He wants people to know where the money is coming from and that America need to depend on the Midwest for its energy, not the Mideast. He also notes that dependence on foreign oil is a national security threat and ultimately, our money lines the pockets of terrorist regimes.
Soltz conclude, "We think consumers and voters deserve to know where all of these dishonest attacks on American-grown renewable fuel are coming from."