Oak Ridge National Laboratory has released a renewable energy resource assessment that finds that hydropower has great potential to produce renewable electricity. The report estimates over 65 gigawatts (GW) of potential new hydropower development across more than three million U.S. rivers and streams. This is nearly the amount currently produced by the industry.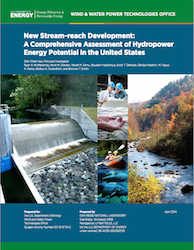 "The United States has tremendous untapped clean energy resources and responsible development will help pave the way to a cleaner, more sustainable and diverse energy portfolio," said Energy Secretary Ernest Moniz. "As the Energy Department works with industry, universities and state and local governments to advance innovative hydropower technologies, the resource assessment released today provides unparalleled insight into new hydropower opportunities throughout the country."
Hydropower makes up seven percent of total U.S. electricity generation and continues to be the United States' largest source of renewable electricity, avoiding over 200 million metric tons of carbon emissions each year, finds the report. Hydropower also provides reliable baseload power day and night – providing greater flexibility and diversity to the electric grid and allowing utilities to integrate other renewable sources such as wind and solar power.
The New Stream-reach Development Assessment released capitalizes on recent advancements in geospatial datasets and represents the most detailed evaluation of U.S. hydropower potential at undeveloped streams and rivers to date. The greatest hydropower potential was found in western U.S. states, including Alaska, California, Colorado, Idaho, Montana, Oregon and Washington. Kansas, Missouri, Pennsylvania and Wyoming led the rest of the country in new stream-reach hydropower potential.
The hydropower resource assessment also analyzed technical, socioeconomic and environmental characteristics that will help energy developers, policymakers and local communities identify the most promising locations for sustainable hydropower facilities. The assessment includes stream- and river-specific information on local wildlife habitats, protected lands, water use and quality and fishing access areas. The report builds on a 2012 DOE report and ultimately finds there are many untapped hydropower opportunities.