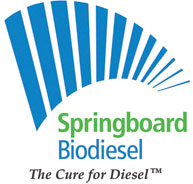 Springboard Biodiesel will open a new closed loop biodiesel production facility in Chico, Calif. on May 1. The company says the new production facility will produce and sell 1,000 gallons per day of ASTM-D6751 grade biodiesel.
Working in concert with the company's used cooking oil (UCO) collection partner, Smart Alternative Fuels, based in Redding, CA., Springboard will be processing locally collected UCO into ASTM-grade biodiesel and thereby providing organizations in Butte County and its environs access to cleaner-burning, locally produced biodiesel.
Biodiesel is a global commodity that is increasingly used in fleets around the country, as fleet managers try to better manage their carbon emissions without expensive equipment changes. Springboard CEO, Mark Roberts, notes, "Using biodiesel made from UCO will reduce the driver's CO2 emissions by as much as 90 percent, while simultaneously reducing particulate matter by 50 percent, and because we are able to price our biodiesel to compete with diesel, these are 'free' benefits of incorporating biodiesel into your fleet management logistics."
The California Energy Commission (CEC) played a significant role in the development of this "first in the state" small-scale biodiesel production facility. The CEC awarded a grant through its Alternative and Renewable Fuel and Vehicle Technology program to assist in the development with the intention that this facility will serve as a model to be replicated in other communities.
Springboard officials say their proprietary system can use a variety of feedstocks in an automated environment, producing high-quality fuel at competitive prices. Tours of the new facility will take place on May 1, 5:30 to 7:30 p.m.