DuPont China Holding Co., Ltd. (DuPont) and Zhenfa New Energy Technology Co., Ltd. (Zhenfa New Energy), have signed a strategic cooperation agreement to collaborate on improving the performance, reliability and return on investment of solar power installations. Under the agreement, both companies will cooperate in optimizing the selection of durable solar materials and technologies used in solar panels.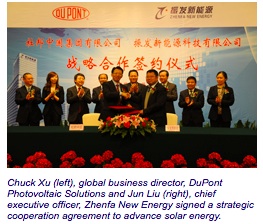 "Solar energy is a clean and sustainable form of energy that we expect will become a greater part of the future energy mix," said Zhenfa Zha, general manager, Zhenfa New Energy. "We are excited to collaborate with DuPont to employ quality solar materials and technology support to help maintain long-term power generation, operations management and cost optimization at our solar installations. This will ultimately benefit our customers with cheaper, cleaner electricity."
All of the solar panels installed by Zhenfa will be manufactured with DuPont Tedlar polyvinyl fluoride (PVF) film-based backsheets, the only material, according to DuPont, proven to reliably protect solar panels for over 30 years, even under extreme environmental conditions. Both companies will work together to optimize solar energy power production and performance as well as conduct field research on panel reliability and failure modes in order to better understand materials' critical impact on solar energy systems.
Chuck Xu, global business director, DuPont Photovoltaic Solutions said of the partnership, "We are delighted to expand our relationship with Zhenfa New Energy into a more strategic relationship that leverages advanced materials critical to the reliable, long-term performance of solar panels for their solar installations. DuPont continues to advance material science to improve the performance, reliability and return on investment in solar to help make it more competitive with other forms of electricity."