According to a recent opinion poll Hawaiians want more solar. The poll found that 90 percent of respondents believe that Hawaiian Electric (HECO) is slowing rooftop solar to protect its profits. The poll found that most residents are very familiar with and supportive of rooftop solar with a third of the respondents having family members with solar and more than half have neighbors with solar.
The poll was conducted by Honolulu-based polling firm SMS and commissioned by The Alliance for Solar Choice (TASC), an organization that represents the majority of rooftop solar installations in the United States, including more than seven thousand projects in Hawaii.
"While it sho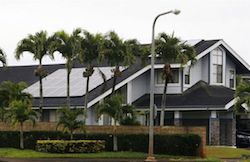 uld be a point of pride that Hawaii has the highest solar per capita in the country, it shouldn't give us any reason to slow down," said Jon Yoshimura, a Hawaii spokesperson for TASC. "The people of Hawaii clearly want and expect more rooftop solar, and are looking to both HECO and to policymakers to advance policies that help increase access for homes and businesses."
Responses revealed that Hawaii residents are adopting solar not only to save money, but also to drive energy independence for the state. Respondents also identified oil dependence and lack of competition in the utility sector as top reasons driving utility rates.
"Hawaii's energy landscape is rapidly changing and we need to adopt new policies and business models that support the public's desire to produce their own clean, homegrown energy," Yoshimura added.
Less than half of those surveyed have a favorable opinion of HECO, while 95 percent have a favorable view of solar power companies. When respondents were informed that the number of solar permits just hit a two year low on Oahu, half said their opinion of HECO declined even further. In short says TASC, HECO's public image is in danger if the utility continues to fall short of public expectations for rooftop solar.
"I decided to go solar for environmental and financial reasons​. I was delayed for months–many peoples' ​interconnection approvals are delayed for years by​ the utility as a stalling tactic," said Nancy Robberson, retired schoolteacher from Kula,​ Hawaii. "Hawaiian Electric and its subsidiaries should not get in the way of more solar here​. Harnessing the sun's power should be an ​inalienable right for all."