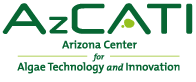 Algae has a great future as a feedstock for biodiesel, as well as cleaning up wastewaters. Arizona State University will be offering a showcase on how to do both at its Arizona Center for Algae Technology and Innovation (AzCATI), May 1-2.
Students from Arizona universities will demonstrate their projects to the public at the Innovation Showcase May 1, and during a formal public presentation workshop May 2. The multi-university collaboration is made possible by funding and support from the Arizona Board of Regents.
Tour the labs and the green algae testbed fields of the Arizona Center for Algae Technology and Innovation from 3-6:30 p.m., May 1, during the Innovation Showcase, hosted by the College of Technology and Innovation. Throughout the showcase, Arizona State University, University of Arizona and Northern Arizona University faculty and students will discuss their algae projects, and AzCATI representatives will host tours throughout the center. Stop by the AzCATI booth at the Innovation Showcase in the Sun Devil Fitness Complex to learn about algae and begin a guided site tour.
The school promises more in-depth insight into the students' leading-edge research on May 2 from 8:30 a.m. to 12:30 p.m., with tours of the AzCATI facility to follow.