The U.S. Forest Service is seeking proposals that expand wood energy use and support responsible forest management. The Forest Service also released a Wood Energy Financial App for use by community and business leaders seeking to replace fossil fuel with wood energy.
"USDA through the Forest Service is supporting development of wood energy projects that promote sound forest management, expand regional economies, and create new jobs," said Agriculture Secretary Tom Vilsack. "These efforts, part of the Obama Administration's 'all of the above' energy strategy, create opportunities for wood energy products to enter the marketplace."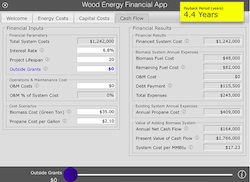 The U.S. Forest Service published in the Federal Register the announcement of requests for proposals under the Hazardous Fuels Wood-to-Energy Grant program. The program will provide about $2.8 million to help successful applicants complete the engineering design work needed to apply for public or private loans for construction and long-term financing of wood energy facilities. In addition, the agency announced $1.7 million in funding availability under the Statewide Wood Energy Team cooperative agreement program inviting public-private teams to seek funding to advance wood energy. Activities may include workshops that provide technical, financial and environmental information, preliminary engineering assessments, and community outreach needed to support development of wood energy projects.
"Building stronger markets for innovative wood products supports sustainable forestry, reduces wildfire risk, and creates energy savings for rural America," added Forest Service Chief Tom Tidwell.
The Forest Service has also released an eBook which contains a Wood Energy Financial App that allows users to do a simple and quick analysis to see if wood energy is a viable alternative for their community or small business. The App, which can be accessed from the Web or an eBook. The App and eBook were developed through a partnership with Dr. Dennis Becker, associate professor and Dr. Steve Taft, extension economist at the University of Minnesota; Eini Lowell, wood technology specialist at the Pacific Northwest Research Station; Dan Bihn, engineer at Bihn Systems and Roy Anderson, senior consultant at The Beck Group.