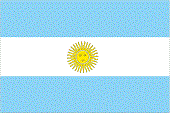 As its biodiesel industry is battling the European Union over anti-dumping measures, Argentina is looking to cut taxes on biodiesel for domestic use. This article from Bloomberg says the government is proposing an exemption of a 22 percent tax on biodiesel used in thermoelectric plants and a 19 percent tax on biodiesel for gasoline blends until the dispute with the EU is resolved.
The EU slapped Argentina with duties on biodiesel imports last year, saying producers have access to raw material at prices that are kept artificially low. Argentina has requested the formation of a panel at the World Trade Organization in order to resolve the dispute and said the nation is being punished for being competitive in a free market, Fernandez said.
"We're in the middle of a true trade war," [President Cristina Fernandez de Kirchner] said during the speech. "We have to protect those who need our help."
Argentina has about 33 biodiesel plants employing 1,600 people.