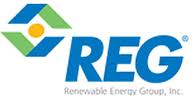 Congratulations to our friends at Renewable Energy Group, Inc., as they have sold one billion gallons of biodiesel! The Iowa-based biodiesel behemoth thanked a lot of people who helped them reach this milestone of the company's 17-year history.
"On behalf of the board of directors and employees of REG, I want to say thank you to all of our customers; vendors; investors; federal, state and local supporters; partners; and team members over the years without whom we could never have met this milestone," said Daniel J. Oh, REG President and Chief Executive Officer.
"Since our inception we have endeavored to provide customers with a reliable and durable product that helps diversify the energy complex and increases energy security, improves our environment, and supports agriculture," Oh said. "Our desire to continuously deliver quality products is a driving force behind REG reaching the billion gallon mark."
REG officials credit their fully integrated value chain including manufacturing, sales & marketing, and supply chain management capabilities for the success, as well as a commitment to research and development and continuous improvement.
For those who might not know, REG's roots come from its days when it was producing biodiesel as the West Central Coop in Ralston, Iowa. As a grad of good ol' Glidden-Ralston (probably the BEST school in all of Western Iowa), I can tell you it's no surprise of the success REG has become. Congrats, guys!