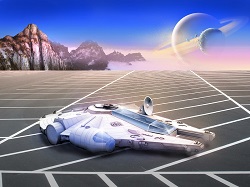 Not so long, long ago, in a galaxy not very far, far away, a man dreamed of a owning a Millenium Falcon… powered by biodiesel! You can help make this Star Wars-themed dream come true, as author and filmmaker Luis Aponte has launched a crowd funding project on Indiegogo to build a Millennium Falcon Spaceship Car and have it run on the green fuel.
During an Earth Day presentation about creative alternative fuels at Okeeheelee Nature Center in West Palm Beach, FL, Aponte said of the project, "The United States currently consumes one out of every five barrels of oil produced in the world. In order to establish and protect our energy independence, what better way to inspire kids to think about the future of cars and alternative fuels than by building a Millennium Falcon Spaceship Car that will run on biodiesel?" Crowd funding support will allow Aponte to have the Star Wars-influenced car built in nine months and ready to travel when his children's book is published next year.
In addition to helping promote biodiesel, fans will be able to pick the book tour locations, as well as what chapters will be included in the children's book. The goal is to inspire children to think about the future of alternative cars and fuels by touring the Star Wars Millennium Falcon spaceship car and his children's book across the country. If you want to contribute and be part of the project, you can either donate to your local droid (although these are NOT the droids you're looking for), or, better yet, click here.
No word if it will be free of Chewbacca hair.