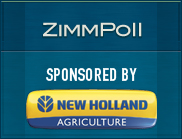 Our latest ZimmPoll asked the question, "Has spring sprung for you yet?"
It looks like many across the nation are still shoveling snow. Good thing Easter weekend looks warmer for most. Here in Missouri the Dogwoods are in full bloom and the grass is getting greener by the day.
Our poll results:
Still snow on the ground – 27%
Still too cold – 24%
Seeing positive signs – 18%
Late spring for sure – 15%
Same as normal – 3%
Too wet – 9%
Too dry – 3%
Our new ZimmPoll is now live and asks the question, "What's your favorite use for Easter eggs?"
The incredible edible egg is in the spotlight this time of the year, but what do you do with all those hard boiled, multi-colored eggs on Monday? Eat them, toss them or watch them rot?