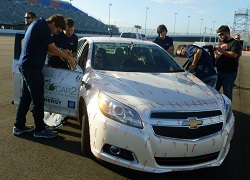 Florida students have put together a biodiesel and battery powered hybrid that gets the equivalent of a gas-powered car getting 100 miles to the gallon. This story from NPR station WFSU says the Embry-Riddle University students designed the car as part of the EcoCAR 2 challenge, a program sponsored by GM and the U.S. Department of Energy that has university teams compete to build a car that is both eco-friendly and commercially viable.
The goal is to re-engineer a 2013 Chevy Malibu to use less fuel and cut emissions without sacrificing performance. The Embry-Riddle team call themselves the 'EcoEagles'. Their spokesman, Calvin Baker, says their vehicle solves the problem with batteries and bio-diesel.
"We have a series plug-in hybrid electric vehicle architecture," Baker says. "It's PHEV which means that we have an electric motor in the car, and then also a diesel engine."
Baker says the batteries alone give their car a 35-45 mile range – plenty for the comings and goings of the average commuter.
"The diesel engine turns on when that range is depleted," Baker says. "With a full five-gallon tank of biodiesel, and full battery charge the car has a 241 mile range."
The EcoEagles are showing off the car around Florida, and in June, they'll compete against other schools around the country in Michigan at the General Motors proving grounds.