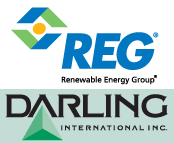 While the expiration of the federal $1-per-gallon biodiesel tax credit (BTC) has been pretty tough on the industry this year, some biodiesel makers could survive without it. This analysis from The Motley Fool, a website that looks at investments, points to how biodiesel giant Renewable Energy Group and renderer and renewable diesel maker Darling International have business models that seem to make it possible, although not easy, to be successful without the credit that expired at the 2013.
REG, for example, anticipated the expiration and took that into account when doing their earnings forecast for the first quarter of 2014. And even while biodiesel production was even lower than the company anticipated, due to an abnormally cold winter that caused natural gas prices to spike, while feedstock costs rose and biodiesel prices fell, REG seems to be weathering the storm.
The silver lining is that Renewable Energy Group was able to produce positive adjusted EBITDA despite a barrage of unfavorable conditions. That can be chalked up to the company's commitment to operational efficiency derived from willingness to invest in a national logistics network and the best process technology. And, of course, management's focus on the long term.
Darling International is not focused solely on producing renewable fuels, but has taken advantage of its leading rendering business (animal fats and used cooking greases, or the inputs for diesel) to create the Diamond Green Diesel joint venture. Renewable diesel is a hydrocarbon, has a different molecular structure than biodiesel, and can capture higher RIN values as a next-generation fuel. Despite the advantages, it is still blended into the existing petroleum-based fuel supply, and therefore benefits from the BTC. Luckily, Darling International's diverse business structure has insulated it from the expiration of the credit. In fact, the company has benefited from the increase in feedstocks since the end of last year.
The article goes on to say that while the return of the tax credit would be good news for REG and Darling, and of course, other biodiesel makers, at least these two companies show you could survive without the credit. In addition, the authors say this short-term uncertainty for biodiesel might present a great buying and investing opportunity if you're looking at the long term.