USDA Rural Business-Cooperative Service Administrator Lillian Salerno went on a three-state Midwest tour last week to highlight USDA investments that are helping expand business opportunities in the bio-economy, including biofuels.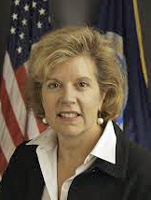 "Creating jobs and expanding economic opportunity for rural small businesses are top priorities for the Obama Administration," said Salerno, who visited companies in Iowa, Nebraska and South Dakota. "The new Farm Bill expands the potential for economic growth in rural America by maintaining momentum for the emerging bio-based industry and the more than 3,000 bio-based companies across the country."
Salerno's tour started with a visit to Quad County Corn Processors near Galva, Iowa where they are working on a process to turn corn kernel fibers into cellulosic ethanol and as a result boost the plant's ethanol production. "It's a co-op, so all the farmers around there have a vested interest in making this processing unit work," she said. The company has received nearly $22 million in USDA Rural Development loan guarantees since it opened 13 years ago.
Salerno noted that the United States has the capacity to provide one billion tons of biomass per year by 2030. "This has a possibility of hundreds of thousands of jobs – actually 1.7 million estimated," she said.