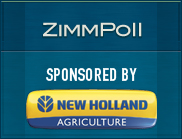 Our latest ZimmPoll asked the question, "What's the largest percentage of your 2014 marketing budget?"
It looks like the old faithful form of print marketing tops this week's ZimmPoll. But what is interesting is that rest of the choices were almost evenly spread across the board, with the newer trends of social media and digital marketing right up there with broadcast and direct mail.
Our poll results:
Broadcast – 10%
Digital – 15%
Direct mail – 10%
Print – 25%
Social media – 15%
Trade show/promo items – 15%
Other – 10%
Our new ZimmPoll is now live and asks the question, "Has spring sprung for you yet?"
If you haven't got a case of Spring Fever, then you must be living in Florida with Chuck and Cindy. Here in the Midwest we had an 80 degree weekend and now are back into the 30's. I think Mother Nature is a little confused. Are you seeing any signs of spring in your neck of the woods?