The ethanol industry testified during the Surface Transportation Board hearing to discuss issues related to insufficient rail service that the ethanol industry says has resulted in ethanol prices spikes and ethanol plants having to halt production.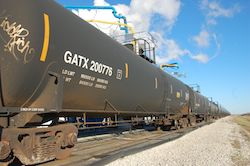 Chris Bliley, director of regulatory affairs for Growth Energy said in his testimony, "Make no mistake, these price spikes have not been caused by a lack of ethanol production or supply, but purely because of an inability to get timely rail transportation. In fact, many plants have reduced or even halted production because their storage capacity is fully utilized. There have been numerous examples of our producers having to wait and wait on trains to deliver their product."
He continued, "On top of the poor and declining rail service, our industry has seen increased tariff rates on certain routes effective April 1. Not only did one railroad give our producers very little notice of the increases, but I dare say, few, if any industries would have the audacity or ability to increase shipping rates while their service has been so poor.
"The bottom line is that the railroad industry has failed in its sole responsibility to transport goods in a timely and effective manner. This failure in service has had a ripple effect on American consumers by increasing the cost of goods and services, and has directly impacted our industry by causing a de facto shut down in production as there is simply no more space to store product," Bliley added.
Renewable Fuels Association (RFA) general counsel Ed Hubbard, in his testimony said, "Due to an uncharacteristic winter, rail shipments of all commodities have been significantly delayed across the country. For ethanol, the congestion has led to a dramatic delay in ethanol shipments to fuel terminals, and caused shutdowns of operations at ethanol plants because they can't continue to store product while awaiting rail carriers to move their product."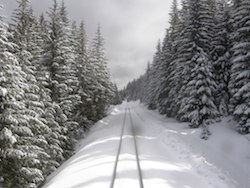 Hubbard pointed toward the railroad's failure to adequately prepare for increased shipments and a harsh winter as the reason for the congestion, but explained that winter alone cannot be blamed because harsh winters are common. Increasing shipments of crude oil are causing a redistribution of railcars, leading to a shortfall of railcars available for other commodities such as ethanol.
"What the data tells us that is different about this year, as opposed to the countless other winter seasons, is the recent dramatic and explosive growth in railcar shipments of Bakken and Canadian crude oil," said Hubbard.
He continued, "The growth in crude oil shipments has reshuffled the existing fleet of railcars and locomotives, pressured lease rates, changed normal rail traffic patterns, and generally exerted significant stress on the rail system. And with this congestion crisis, it is becoming more and more apparent that surging crude oil shipments are coming at the expense of other goods and commodities, like ethanol."