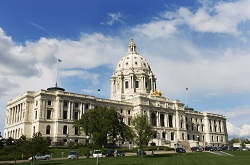 A delay in Minnesota's biodiesel mandate could have a ripple effect for more targets in the law's future. This article in the Mankato Free Press says nearly three years ago, state regulators delayed implementing a B10 mandate scheduled for 2012. Now that officials in Minnesota believe they're ready for the higher blend, it's running dangerously close to another target, B20, scheduled for 2015.
That deadline would be extended by three years, to 2018, under a bill from North Mankato Rep. Clark Johnson.
The basic problem with the 2015 deadline is similar to the reasons for the earlier delays: The state just isn't ready, he said.
The state's soybean farmers association, Mankato-based Minnesota Soybean, supports the bill, said Mike Youngerberg, its senior director of field services. Another version of the bill, opposed by the association, would have delayed the 10 percent transition and eliminate the 20 percent move entirely. But it failed to pass a Senate committee last month.
Johnson's bill, too, has an uncertain future — it didn't pass through its House committees before a March 21 deadline — but he believes it can still pass this year.
Johnson's bill would also change the summer mandate months from April – October to September. Another provision would allow companies that build generators to test them without biodiesel.