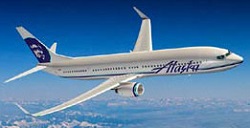 Alaska Air Group announced some aggressive sustainability goals for 2020, and part of that includes aviation biofuels. This company news release says the goals and how to get there are outlined in a new report from the airline.
"We believe running our business sustainably—with an eye on the long run—is simply the right thing to do," CEO Brad Tilden said. "By integrating sustainable practices and policies into our business, we're making Alaska, and all of the people and communities we work with, stronger and healthier over time."
Air Group signed an off-take agreement with Hawaii BioEnergy to buy sustainable aviation biofuels from the Hawaiian Islands beginning in 2018. The airline has set a goal of using sustainable biofuels at one or more of its airports by 2020.
Other sustainability measures being implemented by the airline include flying more efficiently to reduce overall fuel use.