Several recent media reports have reported that the "blend wall" cost refiners nearly $1.35 billion last year. The blend wall is the amount of ethanol that can be blended into the fuel supply. Today is this considered "E10" and for the most part this has been achieved. The next step to hurdle the so called blend wall is to either increase the amount of ethanol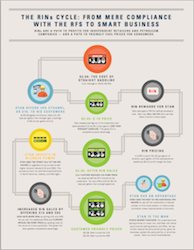 blended into the fuel supply, such as E15 which is a voluntary blend (retailers can choose to blend E15 and consumers can choose to purchase E15) or to promote mid-level or higher blends of ethanol such as E85, which can be used in flex-fuel vehicles.
In response to these reports, Ron Lamberty, senior vice president for the American Coalition for Ethanol (ACE) called them "incomplete and misleading". A recent Reuters article said that was the amount nine companies paid for Renewable Identification Number (RINs), which are credits refiners provide to EPA to prove they bought the amount of renewable fuels required by law. RINs are free to refiners who blend biofuels, while refiners who choose not to blend biofuels can buy RINs from companies that blend more than the law requires.
"Those refiners made a business decision to purchase credits instead of ethanol. Reports aren't honest if they fail to point out that those nine refiners paid $1.35 billion dollars to other refiners for those companies' excess RINs." said Lamberty. "The "blend wall" provided $1.35 billion dollars of income to some refiners, which reduced their cost of fuel."
Lamberty said ACE would like to see more RINs generated by retailers, since they generally use the additional funds to reduce prices at the pumps. "Unfortunately, at the same time oil companies are complaining about RINs and the "blend wall," they enforce policies that won't allow their branded marketers to sell E15 and higher ethanol blends," Lamberty said. "Station owners who offer E15, E85, and other blends generally sell about 20% ethanol overall, making more RINs available. And when they sell RINs, they pass most of the value of those RINs on to customers in the form of lower pump prices."