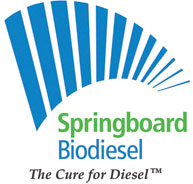 A maker of biodiesel equipment has donated a processor to a center dedicated to sustainable farming practices. California-based Springboard Biodiesel gave the Center for Sustainable Energy Farming (CfSEF), a nonprofit research organization, its industry-leading biodiesel processor.
The processor, a BioPro™ 380, is an appliance that converts a wide variety of vegetable and animal oils into premium-grade biodiesel. This fully automated biodiesel processor is capable of producing 100 gallons (or 380 liters) of biofuel every 48 hours.
Springboard's CEO, Mark Roberts, said in a statement: "We are impressed by the research that CfSEF is doing into alternative non-food-based seed crops that can be economically grown and converted into renewable fuels. We are hopeful their research, specifically with Camelina and Jatropha, will be enhanced by Springboard Biodiesel's equipment and that American farmers will continue to benefit from their findings."
"The Center is very pleased to receive this donation from Springboard Biodiesel," says CfSEF's President & CEO, Richard Palmer. "We are planning to use this equipment to demonstrate the effectiveness of local farmers growing, processing and utilizing biodiesel on their own farms. This unit has the potential to help farmers achieve true sustainability by eliminating their need for diesel fuel to power their farming equipment. They can grow their own non-food-based energy crops, such as Camelina sativa and Jatropha curcas, and process it on-farm for their own use."
Springboard Biodiesel is known for its small-scale biodiesel production equipment.