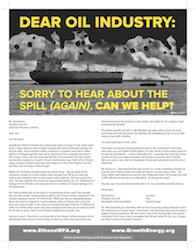 A recent edition of the New York Times and Politico have published what the Renewable Fuels Association (RFA) and Growth Energy are calling "good-humored, but factual takedown of Big Oil's false, hypocritical attacks against clean, renewable ethanol".
In response to American Petroleum Institute's (API) current national anti-biofuel campaign, the two ethanol associations have published an ad that is an open letter to Jack Gerard, API president in Politico and all DC editions of the New York Times.
Dinneen and Buis write, "Despite the millions of dollars your industry has spent on bogus TV ads, there hasn't been a single reported case of engine damage from ethanol blended fuels like E15. But last week, Exxon admitted selling customers in Louisiana more than 5 million gallons of oil-based gasoline that was so bad that it's been stopping cars dead in their tracks. In fact, one auto shop reported 40 or 50 customers who had trouble starting their engines as a result of Exxon's contaminated gas. That's 40 or 50 more cases of engine problems than have been reported in the entire country from E15, and that's just one shop in Baton Rouge!"
With summer around the corner consumers are getting their boats ready for the waters and API has taken the opportunity to run ads about boats not being able to use E15 or other higher blends of ethanol. However, what API does not acknowledge is that the Environmental Protection Agency (EPA) did not approve E15 for small engines or boats.
Going directly at the current API boat ads, the open letter continues, "While your ads are misleading people about the impact of ethanol on marine engines, boats in Houston are in dry dock because of your oil spill! In fact, that one company has been fined for 77 different oil spills since 2008, which means they have averaged more than one oil spill per month for the last six years. That's a lot of boaters impacted by oil spills, Jack."
The open letter is summed up in one simple closing thought, "You see, Jack, the real environmental peril is oil, not renewable fuels like ethanol."