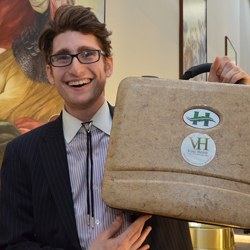 A crop that has had an undeserved stigma attached to it could now become a source for biodiesel and ethanol. The recently passed and signed Farm Bill contains a provision that would allow hemp to be grown for research purposes, including making it into the green fuels.
"Hemp is a great crop for biodiesel, and we've already started experimenting with [cellulosic ethanol made from hemp]," explained Ben Droz with Vote Hemp, a group trying revitalize industrial hemp production in the U.S., at last week's National Agriculture Day in Washington, D.C. He pointed out that hemp goes back a long ways in this country's history, including being grown by the Founding Fathers and the founder of our modern automobile industry. "Henry Ford was actually doing research on hemp fuels and hemp biocomposites. And now today we are looking back to see if we can grow hemp once again."
Ben said the Farm Bill defined industrial hemp, not to be confused with marijuana despite its similar appearance, as having 3/10 of a percent or less of THC – the active ingredient in the drug. Even if you smoked a hemp joint the size of a telephone pole, Ben said you still wouldn't get high. But it's only legal to do the research at universities and state ag departments in the 10 states where hemp is already legal to grow. He's hoping that positive results in those locations will allow the effort to go nationwide.
"Those results will then encourage lawmakers to change the law so farmers can grow this profitable crop. There's literally thousands of uses for hemp."
Listen to all of Cindy's conversation with Ben here: Interview with Ben Droz, Vote Hemp