A team of four students from the Georgia Institute of Technology (Georgia Tech) have taken the $100,000 grand prize in the ACC Clean Energy Challenge hosted by the U.S. Department of Energy. The team won with its electrical power grid technology that features an Internet-like control architecture. The $100,000 prize and ACC Clean Energy Cup were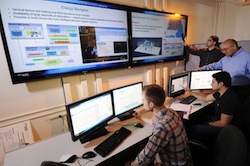 presented by Dr. Darryll Pines, Dean of the Clark School of Engineering at the University of Maryland, Dean Chang, Associate VP, Academy for Innovation & Entrepreneurship, University of Maryland, and Jennifer Garson, Technology-to-Market Analyst, Office of Energy Efficiency and Renewable Energy, U.S. Department of Energy.
Winning second place was Clemson University's Brewcovery, whose team is developing bio-separation and bio-digestion processes to recover and refine value-added co-products from the food industry and brewery waste.
The Georgia Tech team, known as Energy Internet, presented their technology to a panel of expert judges from the clean energy community at the ACC Clean Energy Challenge Final Four on March 26 at the University of Maryland, the competition host and organizer. The team, which includes graduate students Marcelo Sandoval, Jennifer Howard, Mitch Costley and Eric Crane, now moves on to represent the southeast region in the DOE National Clean Energy Business Plan Finals, to be held in Washington, D.C., on June 11-12, 2014.
ACC Clean Energy Challenge winner Energy Internet is developing a new electric power grid approach and solution with a decentralized, autonomous, Internet-like control architecture and a learning control software system. The proposed architecture leverages smart grid investment in sensing and communications and is massively scalable and incrementally deployable, enabling grid flexibility and numerous desirable value propositions, according to the Georgia Tech team. The new architecture is based on the emerging concept of electricity "Prosumers," i.e., economically motivated parties (residential, commercial, industrial and institutional) that can produce, consume or store electricity as determined by their unique needs and capabilities.
The Clemson Brewcovery team is developing a bio-separation and bio-digestion system to create energy and additional products from food industry and brewery waste while reducing the carbon footprint of these facilities. Those products could include bio-lipids for biofuel production, organic nitrogen and phosphorus rich soil amendments, and high protein animal feeds.
The ACC Clean Energy Challenge event featured keynote speaker Mark Johnson, Director, Advanced Manufacturing Office, Office of Energy Efficiency and Renewable Energy, U.S. Department of Energy and former Program Director of the Advanced Research Projects Agency-Energy (ARPA-E).
The $100K ACC Clean Energy Challenge is a business plan competition encouraging students from all universities throughout the southeastern United States to develop business plans for new clean energy companies focused on renewable energy, energy efficiency improvements and advanced fuels/vehicles.