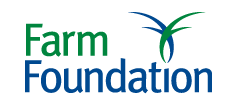 Our friends at Farm Foundation will host another one of their thought-provoking discussions, this time, talking about the energy and agricultural markets and their relationship. Titled, "Geopolitical Uncertainty in Agriculture and Energy Markets," the April 9 Forum will be held at the National Press Club in Washington, D.C. from 9 a.m. to 11 a.m. EDT.
Current political unrest in numerous locations across the world is having a profound effect across agricultural and energy markets and generating supply chain uncertainties.
The April 9 Farm Foundation® Forum will examine the potential consequences of sudden policy changes, production issues, and unforeseen price fluctuations in a turbulent global marketplace. Panelists for this Forum will include:
Former U.S.Secretary of Agriculture Dan Glickman will moderate the panel.
Vincent Smith, scholar at the American Enterprise Institute and professor at Montana State University.
Gary Blumenthal of World Perspectives, Inc.
Brian Oleson, professor at the University of Manitoba.
Charles Doran, professor at the Johns Hopkins School of Advanced International Studies
There's no charge for the forum, and you can register to attend here. In addition, a webcast, including audio and slides, is available here.