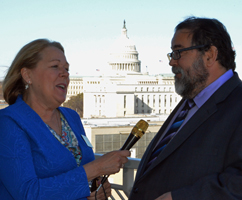 After the ACE Biofuels Beltway March, I was able to stop by and visit with Renewable Fuels Association president and CEO Bob Dinneen in his Washington DC office and we covered the waterfront on issues currently facing the ethanol industry.

In this Ethanol Report, Dinneen discusses what he's hearing about the EPA proposal to lower the RFS, the latest anti-RFS ad campaign from Big Oil, rail delays impacting ethanol shipments, getting the tax credits for advanced biofuels reinstated, USDA plans to continue to support ethanol, and enthusiasm in the industry.
Ethanol Report with RFA president Bob Dinneen from DC
Subscribe to "The Ethanol Report" with this link.