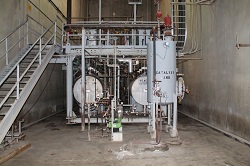 Surplus biodiesel equipment used to produce ASTM-6751-10 quality product from soybean oil and animal fats will be auctioned online. Maas Companies says the equipment comes from a cooperative in Minnesota and used a water wash system and meets Environmental Protection Agency requirements for the Renewable Fuels Standard.
The 3.2 million gallon per year biodiesel equipment package is surplus to the ongoing operations of FUMPA BioFuels (Farmers Union Marketing and Processing Association), a 75 year old farmer owned co-op, located in Redwood Falls, MN. FUMPA BioFuels was Minnesota's first commercial-scale biodiesel plant, which started producing renewable fuels in 2004. Minnesota was the first state to require the use of biofuels, and FUMPA was the first refinery to meet that mandate. Lurgi PSI Inc, was the designer and builder of the plant. FUMPA BioFuels has received many awards for their innovation in the Midwest biofuels market.
The equipment includes a LURGI 3.2MGY Biodiesel Process Skid, a SOUTHERN HEAT EXCHANGER CORP. methanol recovery column, and a BALTIMORE AIRCOIL-cooling tower unit built in 2010, as well as more support items. The auction will end at 4 p.m. on April 17, and potential buyers can attend an open house on April 2 and April 16 to see the equipment for themselves. Appointments for other showings are also possible.