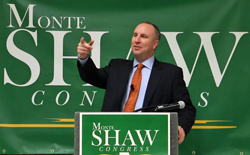 Iowa Renewable Fuels Association Executive Director Monte Shaw is one of several Republican candidates vying to replace the retiring Tom Latham as Iowa's representative in the Third Congressional District, but he may have more grassroots agricultural support than most of them.
Shaw has just announced the formation of his Iowa Agriculture Team, which includes key ag leaders from across the district. "It takes more than just great land and good weather to make Iowa the leading agricultural state – it takes great leaders," Shaw said. "As a farm boy, I've still got the dirt under my fingernails and with the help of these experts I will be up to speed on the challenges facing Iowa's farmers. I also appreciate their willingness to take our message out to the countryside and the city. Folks connected to and interested in agriculture will play key roles on our path to victory in June and November."
Among the members of his team are Grant Kimberley of Ankeny, a 6th generation corn and soybean farmer who was just named executive director of the Iowa Biodiesel Board, and Julius Schaaf of Randolph, chairman of the United States Grain Council and a 4th generation farmer.
Shaw officially launched his campaign for Iowa's 3rd Congressional District last month. He intends to remain in his position with Iowa RFA during the campaign with the full support of the organization's board of ethanol producers.
Watch his campaign announcement below.