Lockheed Martin has signed a contract with global tidal energy company Atlantis Resources Ltd to optimize the design of Atlantis' new 1.5 megawatt tidal turbine. The AR1500 is designed to facilitate operation in highly energetic tidal locations, and will be one of the largest single rotor turbines ever developed and will have active rotor pitch and full nacelle yaw rotation.
According to Lockheed Martin, the increased capability and integrated, advanced functionality will help bring commercial tidal energy to reality, and will initially support the MeyGen project in Scotland's Pentland Firth and deployment in Canada's Bay of Fundy. Once completed, the MeyGen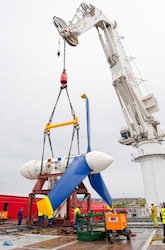 project – the world's largest tidal stream project under development and in development to contributed to the country's 100 renewable energy goal– is expected to deliver up to 398 megawatts of power, enough energy to power 200,000 homes.
"By 2040, world energy demand is expected to dramatically increase," said Tim Fuhr, director of ocean energy for Lockheed Martin's Mission Systems and Training business. "Lockheed Martin's technology, development and expertise in ocean systems and global system integration skills will enable the AR1500 to use powerful tides to produce safe, clean renewable energy for homes and businesses around the world."
Tidal turbines work like an underwater wind turbine. The tides' ebb and flow force the blades to spin, which rotate the turbine and activate a generator that produces electricity. Tidal energy's greatest advantage over other alternative energy sources, such as wind power and solar energy, is that it is almost entirely independent of the weather. The movement of the tides can be accurately forecast several years out.
"With us acquiring the MeyGen project, and receiving full consents to begin construction of the project's first phase, it has been an amazing 12 months of growth for Atlantis," said Tim Cornelius, chief executive officer of Atlantis Resources Ltd. "Our AR1500 development program with Lockheed Martin will ultimately deliver the rapidly growing tidal energy industry the most advanced, robust and powerful tidal turbine system available on the market."
Last year, Lockheed Martin and Atlantis entered into an exclusive teaming partnership to develop technology, components and projects in the tidal power sector on a global basis.