Sales of German biodiesel dropped dramatically last year. Germany's Union zur Förderung von Oel- und Proteinpflanzen (UFOP), an association that advocates for oil and protein crops in that country, says 300,000 fewer tonnes of biodiesel were produced in 2013, down from the previous five-year average of 2.5 million tonnes to just 2.2 million tonnes.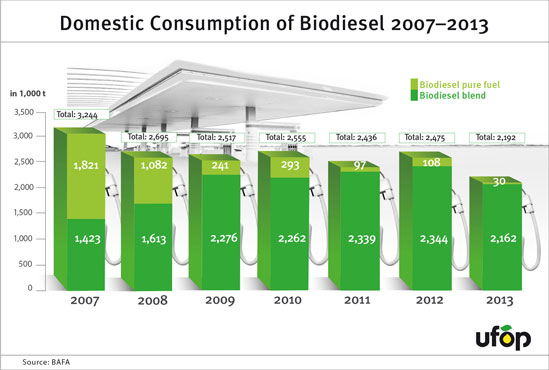 UFOP has determined that the actual decline in vegetable methyl esters turns out to be much more dramatic because the data of the BAFA also includes the offset amount of hydrated vegetable oil (HVO) and biodiesel from waste oils. Assuming HVO sales as in the previous year (around 420,000 tonnes) and an estimated sale of up to 200,000 tonnes of biodiesel from waste oil, the actual sale of conventional biodiesel is only about 1.6 million tonnes.
The consumption statistics spell out the significance of pure fuel marketing in the years 2007 to 2008 and the total energy quota of 5.25 percent introduced in 2009 as well as its increase to 6.25 for the period 2010 to 2014. However, with the resolution for the Biofuel Quota Act having been passed as a clear indication of political will, the UFOP has criticised that volume balancing for compensation of the incremental reduction in the tax concession – biodiesel has been subject to full taxation since 2013 – will creep in due to the double apportionment of biofuels from waste oils and as a result of HVO imports.