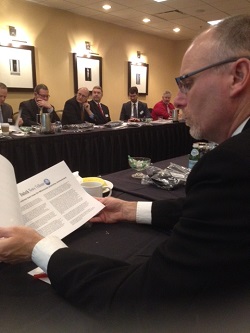 While yesterday was National Biodiesel Day, our friends at the National Biodiesel Board were not just cutting birthday cake. They were advocating on Capitol Hill for the green fuel. March 18th marks the 156th birthday of Rudolf Diesel, the inventor of the engine that bears his name and a man who wanted it to run on peanut oil, not petroleum. The NBB's governing board spent the day talking to lawmakers and taking part in meetings in Washington, D.C.
While hearing more about the NBB's communications efforts, NBB Governing Board Member Tim Keaveney, HERO BX (shown to the right), reviews a selection of the several dozen letters to the editor published to date regarding the Environmental Protection Agency's proposal to cut drastically the amount of biodiesel required to be blended into the Nation's fuel supply.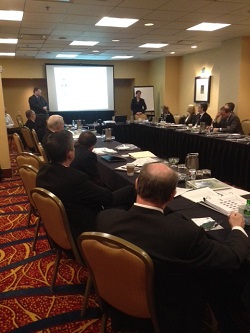 Meanwhile, in this picture on the left, NBB Governing Board members listen to representatives of Bingham McCutchen as they provide an update on litigation related to the RFS.
In a separate news release, while pointing out that the EPA is proposing 1.28 billion gallons of biodiesel to be blended – a sharp drop from last year's record production in the biomass-based diesel of 1.8 billion gallons – NBB officials made another push for biodiesel.
"Nearly every product that ends up on a store shelf is dependent on diesel fuel to get it there. That heavy reliance on one fuel means our economy is directly linked to petroleum price swings. It's in everyone's best interest to have a choice in transportation fuel, and that's where biodiesel – America's first Advanced Biofuel – comes in," said Joe Jobe, National Biodiesel Board CEO.