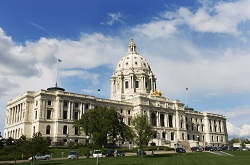 A bill that would have delayed implementation of a 10 percent biodiesel mandate in Minnesota diesel fuels was stopped in a state legislative committee. This story from WDAZ-TV says the bill from Sen. Melisa Franzen, D-Edina, was defeated overwhelmingly in the state Senate Commerce Committee.
She said most cars and light trucks are built to handle 5 percent biodiesel, which now is required to be sold in Minnesota, not the planned 10 percent, known as B10.
Biodiesel supporters said they have heard this argument before, reaching back years to when ethanol first was required to be blended with gasoline. Problems have been few and far between once the state mandated that gasoline and diesel contain plant-based fuel, they said.
Jerry Schoenfeld, who represents soybean farmers and the Minnesota Biodiesel Council, said those who support Franzen's bill sit on a biodiesel task force but never brought up their complaints until the bill surfaced recently.
Both sides used Illinois as an example to support their cause. Those wanting a B10 delay pointed to fuel-blamed engine problems such as clogged filters and acceleration hesitation. Biodiesel supporters said that even in Illinois, Mercedes-Benz praised biodiesel and urged owners to monitor oil levels and strictly follow oil change intervals, but few problems have been reported.
A 2008 law in Minnesota upped the current 5 percent blend to 10 percent when state officials believe there is enough biodiesel to meet that demand, and they had decided that will come on July 1st.