The new executive director for the Iowa Biodiesel Board started his new job on National Biodiesel Day.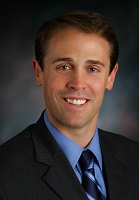 The Iowa Biodiesel Board named Grant Kimberley, formally Iowa Soybean Association director of market development, as its new executive director. Kimberley succeeds Randy Olson, who accepted a position earlier this year with the U.S. Soybean Export Council.
Kimberly was pleased to start his job today on National Biodiesel Day. "Biodiesel has been a passion of mine for the last decade," Kimberley said. "Since the early 2000s, I've seen tremendous growth and change in the biodiesel industry, hitting a record 1.8 billion gallons last year. I look forward to working more closely with all aspects of Iowa's thriving biodiesel industry."
The IBB's mission is to promote the commercial success of biodiesel in Iowa. In this expanded role, Kimberley will develop and implement strategic plans for the organization, including critical policy efforts. His duties will include overseeing the day-to-day operation of the organization, and collaborating with the board for the future of the organization.