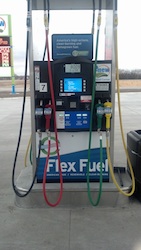 Anew Travel Center in Cambridge, Nebraska is now offering E15 to consumers for use in 2001 and newer vehicles. E15 is currently available in 14 states.
"Anew Travel Center is pleased to announce the opening of our new fueling facility," said Cliff Meeuwsen, member of Anew. "Through the installation of the Flex Fuel dispensers, we aim to promote the use of cleaner vehicles while also displacing the country's dependence on foreign oil and creating employment positions that will benefit the local economy."
The station will have ten pumps—five Flex Fuel dispensers that offer ethanol blends including E10, E15, E30 and E85, and five flexible fuel dispensers that offer biodiesel blends including B0, B2, B5 and B20. In doing so, Anew Travel Center also joins more than 3,000 retailers throughout the nation who have the infrastructure available to provide motorists with a choice of various ethanol blends.
"Seeing retail leaders like Anew, MAPCO Express, Murphy Oil and Minnoco offering E15 continues to validate that there is a viable market for higher ethanol blends. When given the choice, consumers will seek the fuel that costs less, is better for our environment and improves the performance of their vehicles. The momentum building around E15 is really quite impressive," stated Tom Buis, CEO of Growth Energy whose association assisted Anew in the process of offering E15 at the pump.