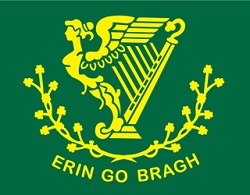 Today is St. Patrick's Day, and of course, in pubs, bars and restaurants across the country (and the globe), patrons will be toasting the Irish saint and the Emerald Isle with a green beer or two (or many, many more). Why not make your choice a truly green beer and not just one colored with food dye? This article from Biodiesel Magazine says there are many choices of breweries that use biodiesel in their operation.
One example is a company whose flagship Pale Ale brew even has a green label: Sierra Nevada. Ranked as the second largest U.S. craft brewing company by the Brewers Association, Sierra Nevada has used a blend of up to 20 percent biodiesel (B20) for the past six years. Biodiesel blends fuel 15 long-haul and local delivery trucks for the Chico, Calif., company.
"At the brewery we're always striving to essentially close the loop, and biodiesel helps us turn what could be a waste product into something useful," said Ryan Arnold, Sierra Nevada communications manager. "The trucks perform well. With up to B20, we don't see much change in mileage."
The company grows eight acres of hops and has an onsite garden at its restaurant in Chico, where it also fuels tractors with biodiesel. Other suitability initiatives include diverting about 99.8 percent of its solid waste from the landfill and housing one of the largest privately owned solar arrays in the country.
Several other choices for biodiesel-green beers include Red Lodge Ales, which has used biodiesel for almost 10 years in its small fleet of delivery vehicles; New Belgium Brewing Company, which includes the tasty Fat Tire brands and uses biodiesel made from recycled restaurant grease to fuel trucks and generators for its famous Tour de Fat, a philanthropic "bicycle, beer and bemusement" event that will travel to 10 cities this year; Steam Whistle Brewing, a Toronto, Canada-based craft brewery has a commercial delivery fleet made up entirely of biodiesel-fueled Mack straight trucks and Isuzu Cabover trucks; and Stone Brewing Co., which has a fleet using B20.
So have a truly green beer this St. Patty's Day. Long live biodiesel and Erin go Braugh!