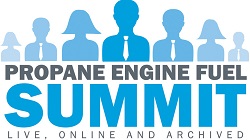 Clean-burning propane will be the featured opening of the AltCarExpo Texas. Taking place March 27 in Irving, Tx., the Propane Engine Fuel Summit will be a daylong summit to feature Texas schools and businesses using the clean, economical alternative fuel.
Kicking off the AltCarExpo Texas, the propane summit has invited Texas municipalities, school districts and businesses to discuss the challenges and benefits of fueling with propane autogas, an environmentally friendly and cost effective engine fuel. Presentations from the City of Fort Worth, CleanFUEL USA, Dallas County Schools, Dallas-Fort Worth Clean Cities and Northwest Propane Gas Co., will cover topics such as refueling infrastructure, economic and environmental factors, propane industry equipment and more.
Curtis Donaldson, managing director and founder of Georgetown-based CleanFUEL USA, will discuss what's to come during his presentation, "The Future of Propane Autogas."
"As the leading alternative fuel in the United States, propane autogas has come a long way since it first appeared as an engine fuel in 1913. The possibilities for this fuel are just getting started," Donaldson said. "This American-made resource is saving more than just cash at the pump. It's driving job creation and energy security by keeping our fuel dollars within our own economy."
Organizers say laws and incentives in Texas are friendly to propane.
Partners for the Propane Engine Fuel Summit include: U.S. Energy Department's Dallas-Fort Worth Clean Cities, North Central Texas Council of Governments, AltCar Conference & Expo and TSN Communications.