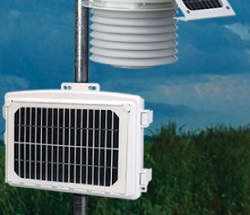 A solar-powered system to remotely monitor the weather has been recognized for its use in the bioenergy and agriculture industries. California-based Davis Instruments picked up a Gold Award for Remote Monitoring at the 2014 Connected World Conference in Chicago for its Vantage Connect.
"With the growing need to manage water resources, protect crops from frost and mitigate damage to our environment, we believe that remote weather data is more important than ever." said Susan Foxall, Marketing Director, Davis Instruments.
Solar-powered, Vantage Connect does not require an external power source and uses the cellular network to transmit weather data to the Internet. Real-time alarms for specific weather conditions alert users via text and email messages to changing conditions, allowing them to identify and manage potential problems.
The Connected World award was one of two awards Davis won, also picking up honors for CarChip ConnectR, Davis' telematics solution for fleet monitoring.