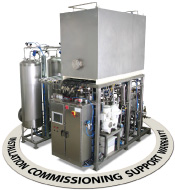 A biodiesel producer on the tropical island of Aruba is going to the Great White North to get its biodiesel maker. Ontario-based Methes Energies International Ltd. is building a Denami 600 for Antilla Energy VBA (formally known as BioFuel Aruba) to brew biodiesel from local waste cooking oil.
Nicholas Ng, President of Methes Energies, said, "We're very excited about this project as it fits well with our business model. I believe that this is the first of many more manufacturing orders we will receive this year. We have been working with several clients that are, just like Antilla, at a point where they now need to order their Denami. It is a sometime a long process but at the end it is very rewarding for our clients and our company."
Gregory Fung-A-Fat, Managing Director of Antilla Energy VBA, added, "Our due diligence exercise took a bit longer than we first anticipated, but we are finally there and ready to go. We now look forward to receiving delivery of our first Denami with commissioning happening in the fourth quarter of this year. The plan is to grow our facility to about 6 million gallons per year so we are setting up in a way that will make it easy and cost effective to add 4 more Denami's 600's as the market conditions allow. We're glad to be doing our part to help Aruba reach its Green Aruba 2020 targets."
Antilla Energy VBA is focused on on producing biodiesel from non-food crop biodiesel feedstocks.