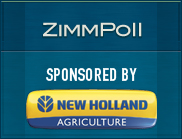 Our latest ZimmPoll asked the question, "What's your favorite fish?"
Looks like grilled is a favorite by a landslide. Personally, I agree. I didn't learn to like fish until later in life and still don't cook it often, but love when someone makes it for me. It is interesting to see all the fast-food chains adding a fish sandwich to their menu this time of year. Maybe we should have added fish sticks to the list.
Our poll results:
Pan Fried – 11%
Deep Fried – 19%
Poached – 3%
Baked – 9%
Grilled – 35%
Smoked – 9%
Soup – 0%
Don't eat fish – 11%
Other – 3%
Our new ZimmPoll is now live and asks the question, "What do you think of the Open Ag Data Alliance?"
The Open Ag Data Alliance (OADA), an open standards software project to ensure farmers have full data access, security and privacy, has officially been launched with the goal of enabling farmers to have flexibility and control over data-driven decisions on their farm. What do you think about it? Do you think there is a need for this – or do you even understand it at all? Let us know!