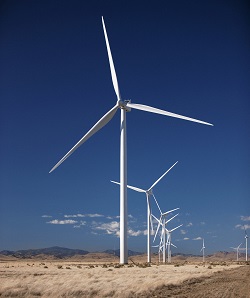 Danish wind turbine builder and installer Vestas has become the world's leader in wind energy installation, while adding jobs right here in the U.S. The company says it installed 13.2 percent of all wind energy in 2013, nearly a third more than its closest competitor. And this record-setting year for Vestas prompted the company to hire about 400 workers at its Colorado factories, with another 450 expected to be hired this year.
Vestas installed turbines in 31 countries last year. According to Vestas' own figures, our largest market for installations in 2013 was Germany, followed by China, Canada, and Brazil. Vestas' largest market for sales in 2013 was the United States, followed by Germany, Canada, and Sweden.
CEO Anders Runevad says, "Vestas has been through a tough two-year turnaround process to return to profitability. That we simultaneously achieved our financial goals in 2013 and solidified our market leadership is a testament to the strength of the company."
One of the best years for wind-turbine orders for Vestas has led to significant hiring at its four Colorado factories. The company's blade factory in Windsor, blade and nacelle factories in Brighton and tower factory in Pueblo expect to add more than 850 production workers this year after Vestas secured orders in 2013 for nearly 900 turbines.
"We are going to be extremely busy making blades, nacelles and towers this year through at least 2015," said Chris Brown, President of Vestas' sales and service division in the United States and Canada.
Vestas' V110-2.0 MW and V100-2.0 MW turbines are made in Colorado and shipped out all over the world.