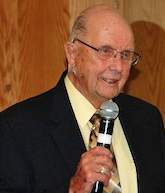 The man who is known as the "Father of Ethanol" in the United States is still busy advocating for the industry at the well-seasoned age of 93.
Merle Anderson, one of the founding members of the American Coalition for Ethanol (ACE), just recently penned an excellent editorial for the Grand Forks Herald about his favorite subject and his observations are just as sharp as ever when it comes to the fuel he has been promoting for decades. Here's some excerpts his letter entitled "Government 'myths' limit ethanol's full use" that he wrote with input from his friend and fellow ethanol advocate Orrie Swayze from Watertown, S.D.:
First, we must remember that Henry Ford favored E30 for his Model T. After that, what could go wrong, did go wrong as government teamed with oil, and — in a joint effort to keep ethanol out of gasoline markets — created misleading myths that E30 was illegal and would ruin engines…
Merle debunks several of those myths, including that higher ethanol blends void car warranties and that gas station pumps are unable to handle higher blends such as E30. "I really chuckle at that one, because standard gas station pumps were the only pumps available when E85 was introduced nearly 20 years ago, and they still are safely pumping E85."
Merle concludes – My dream is every American and all of agriculture — including our sugar beet industry — would have access to an ethanol market that is not limited by EPA and big oil's nonsense or the ethanol blend wall that has been in place since the first Model T was built.

Read Merle Anderson's entire editorial here.