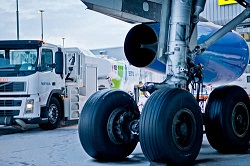 Dutch refiner Neste Oil has won an award for its sustainable aviation biofuel. This company news release says the Sustainable Bio Award comes for its work with Neste's Dutch partners on their joint initiative, Bioport for jet fuels in the Netherlands.
Launched in November 2013, the initiative is designed to promote the deployment of sustainably produced biofuels in the aviation sector. In addition to Neste Oil, the initiative has been signed by KLM, SkyNRG, Schiphol Airport, the Port of Rotterdam, the State Secretary of Infrastructure and the Environment, and the Minister of Economic Affairs. Neste Oil's role in the initiative is to explore the opportunities for producing renewable aviation fuel on a continuous basis and scaling up production.
The Sustainable Bio Award competition recognizes innovations that promote the development of sustainably produced biofuels and bio-products. Joint initiative received the top award in the Collaboration of the Year category.
Neste's NEXBTL renewable aviation fuel, made from vegetable oil and waste oil feedstocks, enables airlines to reduce their greenhouse gas emissions and has been tested successfully on commercial flights.