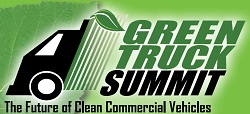 Just because they're big rigs doesn't mean they have to be big polluters. Truckers and trucking interests have gathered this week in Indianapolis for the annual NTEA Work Truck Show and the Green Truck Summit being held in conjunction with the event. This article from FleetOwner.com says biodiesel and propane were talked as having some big growth potential in the trucking world.
"The vision of the U.S. biodiesel industry is to see 5% of the petroleum diesel used replaced with biodiesel by 2015 and 10% by 2022," advised Jennifer Weaver, OEM Outreach & education program specialist for the National Biodiesel Board.
"That 5% alone would equal 1.88 billion gallons of biodiesel," she continued, noting that "2013 was a banner year for biodiesel and the momentum is with it going into 2014.
And looking out to 2040, Weaver said by then "diesel will account for 70% of the growth in demand for all transportation fuels."
Meanwhile, Tucker Perkins, chief business development officer for the Propane Education & Research Council (PERC), sees propane autogas as "the little engine that could" as it is being adopted by more private and municipal fleets.
"Propane autogas is not a Class 8 fuel," he hastened to add. "It's primarily going into light-duty pickups and vans and is moving into the medium-duty market mostly in school buses but the future includes medium-duty trucks as well."
Perkins added that propane can be stored at a low pressure as a liquid and infrastructure costs are pretty minimal for an operation.